Good morning, folks. I hope your weekend was better than mine. I've got some caffeine and a bit of a rant brewing.
It is, of course, an election year and therefore everyone and their mother is sticking some appendage into their mouth or talking out of their ass.
By now you've probably heard about Republican candidate Todd Akin's outrageous and egregious claim about "legitimate rape" not leading to pregnancy. If you didn't, allow me to inform you. The Missouri nominee for a senate seat said,
"From what I understand from doctors, [pregnancy as a result of rape is] really rare. If it's a legitimate rape, the female body has ways to try to shut that whole thing down. But let's assume maybe that didn't work or something. I think there should be some punishment, but the punishment ought to be on the rapist."
Oh, sweethearts and dear ones, I don't know where to start with this one. Okay, that's a bit of a fib, I know exactly where I want to start, but I understand that some of you may not want to get into politics. That's fine. Those of you who do...let's get together after the jump and dive into the cesspool that is Horribly Stupid Soundbytes from Political Figures!
*Possible trigger warning. We will be talking about rape/sexual assault. 
Okay...for one moment let's forget that this is even about abortion. Okay? We're not going to talk about pro-choice/pro-life, ultrasounds, birth control or women's rights. We're going to focus solely on this gem of ignorance brought to us from Mr. Akin.
"Legitimate Rape"  What in the bloody blue blazes of Satan's scrotum constitutes "legitimate rape"? Here's how I understand it: Person A makes an unwanted sexual advance on Person B. Person B makes it known through physical cues or a simple "no" that these advances are unwanted. When Person A presses the issue and forces sexual activity to happen... this equals rape.
I know that our society likes to muddy the waters by taking pages from the Blame the Victim playbook. Rather than educate our youth that rape is wrong, we're telling our girls not to leave the house dressed like sluts. We're conditioning more women who will internalize assault as their fault and therefore be less likely to come forward. It does not help when judges let known rapists go because they feel the women were asking for it. It's true. Click the link and be prepared to calm your gag reflex.
So, is Mr. Akin saying that "legitimate rape" is one where a woman is ushered off the street into a back alley and violated by a stranger? According to Rape Abuse and Incest National Network (RAINN), nearly 60% of all reported rapes are committed by someone the victim knows. Does Mr. Akin feel that "date rape" is a sketchy area because clearly the woman wanted to be with this man, therefore, she can't possibly have been "legitimately raped"? I'd like to know what the would-be senator feels on this matter, but he hasn't clarified this statement. (Sure, he's walked it back and tried to weasel out of it, but he stayed away from explaining this particular phrase.)
Rape is rape. If Person A is told NO, but continues anyway? Done.
"A Really Rare Thing" Mr. Akin seems to be focusing on the idea that getting pregnant as a result of sexual assault is akin to finding a four-leaf clover. (We'll get to his reasoning why shortly, believe me.) But, there is some factual basis to this part. The US Department of Justice estimates that 5% of one-time unprotected sexual encounters will end in pregnancy. That's rather low, to be sure. There are many factors that may contribute to or skew this figure--particularly when trying to apply it to incidences of rape or incest--however, RAINN estimates that in one year, 3,204 assaults (out of the nationally reported 64,080) will end in pregnancy.
The frightening thing about RAINN's statistics, however, is that a woman is more likely to get pregnant from an assault than her attacker is to spend a single day in jail.
"...ways to shut that down..."
This is where Mr. Akin's statement takes a turn for the wacky and truly terrifying. While yes, we women are graced with a body that does amazing things in the nether regions, I think Mr. Akin gives a little too much credit to the feminine mystique. According to his statement, I've got a vagina rigged with trip wire, laser sensors and high explosives that James Bond couldn't get into with all the help from Q. And if he did manage to Mission: Impossible his way in there with his secret agent sperm, I'd have my uterus on lockdown faster than you could say Pussy Galore.
Look, it doesn't work that way. You see, a woman has no natural failsafe. Any college co-ed will tell you that we cannot will ourselves to Please God Don't Let Me Be Pregnant any more than a man can make one big boob by smooshing both of them together. We are not so in touch with our strange and mystical ovaries that we can make them stop the presses.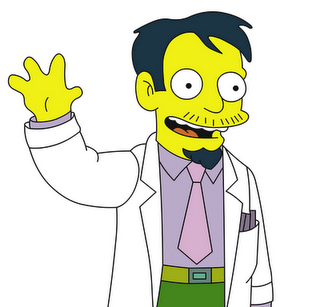 Funny thing: we all learned this in school. Biology class is nifty. Granted that Mr. Akin comes from the generation of "put an aspirin between your knees" birth control, but I'm pretty sure he went to school before No Child Left Behind started to dumb down the masses.
Akin says that he got this information from doctors. Unless those doctors are the same high school girls who think that you won't get pregnant if you have sex in a pool, spin around 3 times and bark like a dog after he comes... I'm dubious of Mr. Akin's sources. I'm betting they look like that guy up there.
At least he finishes off with a bang, that cooky Mr. Akin. He says that if our wily vaginas don't manage to purge the invader semen, the rapist should be punished. That's fantastic. I'm glad he's on our side. (See above reporting statistics and the average that 97% of rapists walk free.)
There Should Be Some Punishment Here's the thing: Would-Be-Lawmaker Todd Akin is right. There should be some punishment. Rapists should be held accountable, women should feel they can report these attacks without the blame-the-victim bullshit that inevitably ensues and we should live in a world where a football stadium full of people are not assaulted every year. However, there are these roadblocks standing in the way of that utopia. They're called "politicians". Redefining rape, trying to package rape and abortion, using them as wedge issues and ammunition in an onslaught against women's rights... Yeah, to put it bluntly, they suck. And there should be a punishment for that level of stupidity. It's fine to be that ignorant in the privacy of your own home, but when it affects my uterus, you're done.
It reminds me of John Waters (filmmaker of such cult classics as Hairspray, Cry-Baby and Pecker). He once said that if you go home with someone and you can't see any books, don't fuck them. I think we need to impose a similar rule in politics.
So, here's what I want you to do.
If you think that Akin and other such people seeking office on a platform that spews ignorance and outright lies.... Don't vote for them. Period. Don't let this shit into a position of power. If he doesn't have a grasp of 4th grade biology, he doesn't get to play with your rights or money. Savvy?
If you aren't sure, you're still on the fence and want to see what's what? Pick up a book. Educate yourself. Scour Google for hours and use reputable sources, not just Wikipedia. Feed your head with knowledge, then, once you've done that... Don't vote for this shit.
If you agree with Mr. Akin and think he speaks gold-plated gospel... DON'T VOTE. Period. It's your civil right to vote, sure, but if you're completely off reality and scientific fact in the process, you've ceased to live in our country and now inhabit the same plane as unicorns, snozwankers and vermicious knids. Feel free to blow bubbles into your chocolate milk and fuck some electric sheep, but please, don't screw up my reality because you've abandoned it.
Nerdmaste, my friends.
EDIT 8pm, 8/20 - Two things have been brought to my attention since I posted this this morning and I wanted to give them a place here. 1) A dear friend of mine made the comment, "No doesn't mean no. No is implied until removed." This is an excellent point. She went on to explain that the burden of consent should not be on the victim, yet that is where we place it. She finishes off her statement saying that if there is already a blanket consent--for example, in a pre-existing relationship--it is up to the "victim" to communicate when sex is off limits. I think she's got an amazing point when it comes to where we place the burden of consent. It's something to think on.  And 2) Someone shared this open letter to Todd Akin by renowned feminist and writer Eve Ensler. Read it. Have kleenex handy. --jw